Text and Illustrations: Nikola Kucharska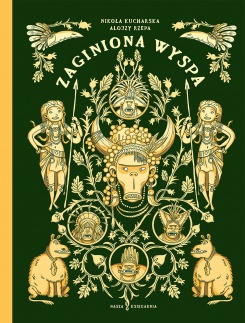 6-10
128 pages
Hardcover
24 x  32 cm
(Nasza Księgarnia)
Rights sold: Russia
English translation available
Here translation rights available for Spain an Spanish-language territories.
This book is the fascinating story of a children's book illustrator, who, in search of respite from daily routine, sets off on a journey and discovers a lost island full of traces of strange civilisations. After reading a mysterious diary written 130 years ago, the illustrator discovers she's not the first person to have arrived on the island.
The diary, full of detailed descriptions of the anatomy, customs and handicrafts of the peoples who once inhabited the land, becomes her guide to the mysterious island and the secrets of its fauna and flora.
The illustrator's comic-strip style diary is combined with research notes to create an unusual, two-track story illustrated with scenes from the lives of ancient tribes. The Lost Island is a fun adventure book for young fans of ethnography and anthropology.