Text: Zofia Stanecka
Illustrations: Magdalena Kozieł-Nowak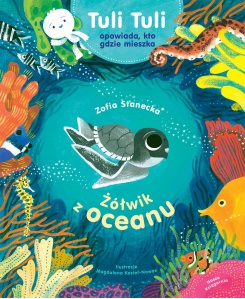 2-6
40 pages
Boardbook
20,5 x  25 cm
(Nasza Księgarnia)
Rights sold: Czech RepublicSlovakia
English translation available
Here translation rights available for Spain and Spanish-language territories.
NEW!
I'm Tuli Tuli the caring spirit. I live on Earth. I travel across its nooks and crannies. I peek where there's life. And it's everywhere! In the air. On land. In water. On the tops of the highest mountains.
Tuli Tuli tells us who lives where is a beautifully illustrated educational series for the youngest readers. Each book is about a different environment and a new character. Children follow their adventures and learn about nature-related trivia.
Pikin the green turtle lives in the ocean. The underwater world is so beautiful. So many things happen in it! And there are so many treats in it as well! But you need to stay watchful. There are many dangers out there that little creatures need to look out for.
Two hedgehogs are born there – Tiny and Spike. Besides them, so many animals and birds live in the park! Some are dangerous. You have to be careful and quickly curl up into a spiky ball. The hedgehogs have to learn so many things. For example, about winter is and how to prepare for it.