Text: Małgorzata Strękowska-Zaremba
Illustrations: Daniel de Latour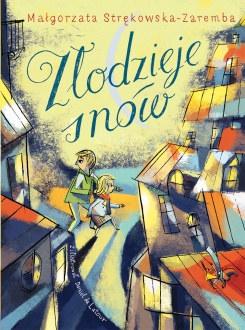 6+
112 pages
Hardcover
14,0 x  19,2 cm
(Nasza Księgarnia)
English translation available
Here translation rights available for Spain an Spanish-language territories.
After her parents separate, little Betty is finding it hard to sleep. There is only an empty, scary space left where her colourful dreams used to be. And even though mum and dad are trying their best to help their little girl, the space cannot be filled with bedtime stories, or toys or sweet-tasting medicine. It's Betty's older brother, Bart, who discovers the truth. Thieves have stolen Betty's dreams – so the siblings must set out on a dangerous journey…
The new edition of Dream Thieves, evocatively illustrated by Daniel de Latour, received a distinction in the IBBY Poland Book of the Year contest (2008) and came second in the 1st Halina Skrobiszewska Children's Literature Competition (2009). The book has also been added to the Treasure List of the Children's Book Museum.